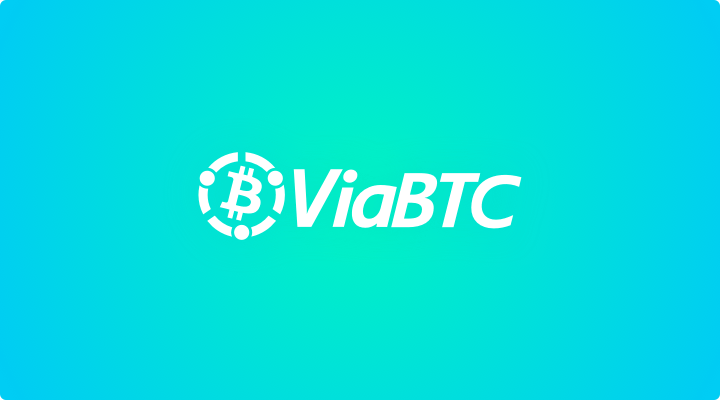 Ever since the concept of pool mining was first introduced, the average miner has been offered an alternative and more seamless means of generating income from a crypto venture generally considered expensive and technically imposing. Over the years, certain services have set themselves apart as market leaders in this sector. One such platform is ViaBTC, a china-based mining pool that has become a one-stop mining service for miners around the world. However, before deciding to opt for this solution, there are certain things that you need to know. Here, I will highlight all the key features of ViaBTC's mining pool, why it has remained a relevant mining service as well as its downsides.
What is ViatBTC?
Launched in 2016, ViaBTC has emerged as a popular mining pool in China and beyond, thanks to its expertise in blockchain technology. Although ViaBTC has only been operational for 5 years now, it has quickly risen to the top echelon of the mining economy. More specifically, its mining pool service controls 11% of the total bitcoin hashrate linked to mining pools. This is enough to place it in the top 5 list of mining pools with the highest bitcoin hashrate. According to the company, this is down to the team's expertise in the blockchain scene and its commitment to always deliver high-quality services.
Notably, the company has since expanded its offerings to cover other aspects of the blockchain sector. For one ViaBTC Group operates an exchange, a wallet, and a smart chain. More recently, it launched a blockchain-focused investment solution as part of its efforts to contribute actively to the development of blockchain. As expected, the company has begun extending its global reach by partnering with blockchain-based companies around the world including mining-focused services. Apparently, this is a reasonable thing to do, seeing that China is not showing any sign of backing down from its hostile stance against crypto. Likewise, it is worth mentioning that it is only a matter of time before ViaBTC relocates to a more crypto-friendly region.
All in all, ViaBTC boasts over 1 million users from 130 countries. Also, it introduced the Pay Per Share Plus (PPS+) revenue distribution system and was the first mining pool to allow automated conversion of minted coins to USDT every hour. These milestones have further solidified ViaBTC's place in the ever-evolving crypto mining market.
Apart from bitcoin, ViaBTC offers mining pool services for 17 cryptocurrencies. These digital assets include ETH, BCH, ETC, BSV, XEC, RVN, DCR, FCH, LTC, ZEC, ZEN, DASH, XMR, CKB, LBC, and HNC. In other words, ViaBTC is an ideal option for miners that intend to access a wide variety of mining options. Another thing that you should know about ViaBTC is that it has a section where users can access third-party mining farms. It also launched its in-house cloud mining pool for users that would prefer to have ViaBTC take up all of the technical aspects of crypto mining on their behalf.
What are the features of the ViaBTC mining pool?
Before going into details about the functionalities of ViaBTC, it is first important to consider some of the rudiments of crypto mining. Seeing that you are interested in a mining pool, you must be aware that joining a mining pool does not necessarily eliminate the need to set up mining gear. Even though you are opting for a mining pool, you still need to play your part and contribute a share of the pool's hashrate to be eligible to receive a reward. However, the mining pool reduces the entry barrier and levels the playing field. With this, you can stand a chance of earning block rewards even though the hashrate requirement of the blockchain is high.
For instance, using a bitcoin mining pool allows you to join a network of other bitcoin miners so that the entire network can compete with other large bitcoin mining farms. So, you still need to run your mining gear like you would if you were solo-mining. The only difference is that you can be a part of a network and direct your hashrate towards it. So when you are using ViaBTC, you still need to run mining equipment. Alternatively, you can take advantage of the cloud mining services of ViaBTC, which allows you to buy mining contracts and save yourself the stress of maintaining mining hardware. Better still, you can adopt the services of any of the third-party mining farms featured on ViaBTC's website.
With that out of the way, below are the features that you will find on ViaBTC:
Transaction accelerator
One of the good things about ViaBTC is that it offers a means to boost the speed of crypto transactions. In a case where there is a bitcoin transaction delay, you can request for ViaBTC to add your transaction to the next block discovered by the pool. According to ViaBTC, it has the capacity to accelerate 100 bitcoin transactions per hour. You can as well opt for a paid service designed to accelerate BTC, BCH, or LTC transactions. What ViaBTC does is that it liaises with selected mining pools to prioritize transactions. You will have to pay a fee to enjoy this service.
Transaction broadcast
As an additional transaction speed-boosting mechanism, you can broadcast transactions to the blockchain network when there is a delay.
Profit calculator
You can also calculate the potential profit of each cryptocurrency supported by ViaBTC. The mining pool has enabled a profit calculator where users can enter the appropriate feed to confirm the profitability of mining various digital assets.
Crypto loan
Additionally, users can request USDT-denominated loans by depositing cryptocurrencies as collateral. This is an initiative designed to help users access funds without having to liquidate their crypto reserves. In other words, they get to take out a loan against their crypto holdings. The lowest amount that can be borrowed is 100 USDT while the maximum is 200,000 USDT per loan request. Notably, the total each user can borrow altogether cannot exceed 500,000 USDT. The accepted collaterals are BTC, BCH, BSV, ETH, and LTC.
Mining and asset management tools
When it comes to mining, ViaBTC provides the tools required to monitor mining profits, access real-time hash rates, and carry out round-the-clock mining performance checks. You also get to enjoy asset management tools like an in-built multi-currency wallet and a crypto-to-crypto trading system with auto-conversion. In addition, you can hedge against adverse price changes that may reduce the value of your revenue.
Revenue sharing models
There are three revenue distribution methods supported by ViaBTC. These models are:
Pay per share plus (PPS+): PPS+ works in such a way that the mining pools bear all of the risks associated with orphan blocks since they pay miners like they are being hired to contribute their hashrate to the mining network. As a result, pools usually charge a high pool fee for such a payment method. Note that miners fees are also distributed to miners
Pay Per Last N Shares (PPLNS): Here, the pool calculates the revenue of each miner based on their hashrate contributions in the last N difficult rounds. The miners also receive a share of the miners' fees. However, the fee charged by the pool is relatively low compared to what PPS+ users pay.
SOLO; This payment method is only suitable for users interested in solo-mining cryptocurrencies. Here, the entire block reward and miner's fees are awarded to the individual miner when they find a new block. ViaBTC charges a very low maintenance fee.
Interestingly, you can easily switch in between these 3 payment models. It is advisable to consider the long-term implications of the pool fees and payment frequency of each method before adopting one.
Security
ViaBTC has managed to establish itself as a secure mining platform, thanks to its decision to adopt high standards and implement a multi-level risk control system.
Availability
ViaBTC is a fairly stable mining pool in that it promises low latency. However, the pool's resolve to enable a stable network was put to test in November 2021 when multiple China-based pools, including ViaBTC, faced connectivity issues due to DNS pollution. Remarkably, the ViaBTC team quickly swung to action by activating a new domain name (www.viabtc.net) for those facing troubles connecting to the pool's original website.
Customer support
ViaBTC has created a very comprehensive help center where users can access articles answering frequently asked questions. Also, you can submit an email ticket to make your complaint known and have it resolved by a customer representative.
What are the pros and cons of ViaBTC?
The pros of ViaBTC
It is one of the largest crypto mining pool
ViaBTC is an established mining pool as it is ranked among the top 5 BTC mining pools and leads the way in the BCH mining ecosystem. As such, ViaBTC is a huge brand that has built a strong reputation in the blockchain scene.
It supports a long list of mineable coins
If you are looking for variety, then ViaBTC is the place for you. The mining pool supports a wide range of mineable cryptocurrencies, including the popular ones like BTC, ETH, and LTC.
ViaBTC has implemented sophisticated management tools
Whether it is your mining operations or revenue that needs managing, ViaBTC provides a slew of tools, including a profit calculator, 24/7 performance monitoring system, and an in-built crypto exchange infrastructure, designed to make it easier to manage your entire mining business.
It enables crypto loan and hedging
There is also the option to take out crypto loans directly from the ViaBTC platform. You can even hedge your revenue against unforeseen price fluctuations.
ViaBTC provides transaction speed-boosting tools
You can take advantage of various transaction speed-optimizing systems provided by ViaBTC to mitigate delayed bitcoin transactions.
The cons of ViaBTC
It does not support live chat
The only downside we noticed was the unavailability of live chat which is increasingly becoming a customer support standard for service providers.